www.Note2Self.net.au
User Instructions for:
Hybrid App - iOS Web Andriod - for taking notes on the run!
Note 2 Self is a note taking hybrid app with 7 fields of data input/upload.

Currently working in all common pc browsers and iOS and Android devices.

Uploading data has been scaled for mobile with further review/editing/manipulation/saving best done on pc or tablet.

Primarily designed to use touch screen and microphone for input.


Ideally used as a quick 30 seconds of 'note taking' then uploaded for further review and/or editing.


Users would include:

* Business persons for recording any quick details needed e.g. appointment times, or 'call him/her back later' or 'remind myself notes'.

* Anyone wishing to record their daily activities like water or coffee or food consumption

* Anyone wanting to record their daily exercise

* Solictors for recording phone attendances

* Travellers for recording travel claims details

* Salespeople wanting to record a 'new client nmenonic' for future reference; ie client's birthdate or wife's name.

* Anyone with memory challenges that needs to imediately record a detail/event for future reference.

* Autobiographers for recording memories of times and places and events as they come to mind . . .
. . . and . . . before they leave!
Log your memoires in any order then sort them chronologically at your leisure.


Description of Graphics User Interface:

Field 1: "Today's Date". Is auto populated. The data is fixed.

Field 2: "Event Date". Is also auto populated with "Today's Date" but can be edited with a 'date picker wheel'.
.
Field 3: "Keyword 1". This is designed to be like a "Title" or "Genre" or "Billing" or "Travel Claim".

Field 4: "Keyword 2". This is designed to be like a "Chapter" or "Artist" or "Client" or "From/Start kms".

Field 5: "Keyword 3". This is designed to be like a "Page number" or "Album" or "Minutes/units" or "To/Finish kms".

Field 6: "Details". This field has a maximum capacity of 256 alphanumberic characters;
for example: 'phone attendance re settlement' or '420kms Adelaide to Port Pirie".

Field 7: 'Image". This field offers the user the option to use an existing photo from the smartphone/pc/device album or
to take a new photo to link to the data upload; imagine a shot of your lunch or a document or date.


Instructions for use:

To use as a hybrid App, bookmark the website to your home screen.

Tap into the app (with login on autofill or keyboard shortcut - see below) to start.

App opens with "Login" or "Register New User" or for members: "Today's Date" - auto populated.

Tap into the "Event Date" if it requires changing from today's date?
Use 'date picker wheel' to select date.

Tap on the first 'Keyword' field,
* tap the microphone,
* say the keyword.

Tap on the second 'Keyword' field,
* tap the microphone,
* say the keyword.

Tap on the third 'Keyword' field,
* tap the microphone,
* say the keyword.

Tap on the 'Details' field,
* tap the microphone,
* say the details of the upload.

Tap on the 'Image Choose File' button,
* option 1: Take a photo,
* option 2: Choose a photo from Library.

The image is reduced to approximately 800 x 600 pixels at about 20kb in size for storing on the database.

All photos are date/time stamped for identity/access. The original library photo is unaltered; ie still at hi-res.

Tap "Upload" button to send data entry to database and reset fields to empty for next upload.


Downloading your data to your browser from the database.

The user can download their uploaded data via the 'date picker for a range of dates' or opt for the 'all data download'.

The 'download' will be delivered to the users browser as a 'CSV file'.

Once the download has finished the user can open their CSV data in MS Excel and manipulate/edit/amend/sort/embellish/save
to desktop as they choose.

Specifically in Excel, the User can 'Select, Sort, Save and Separate' their data according to the:

Upload Date

Event Date

Keyword 1

Keyword 2

Keyword 3

Details

Image

or 'any' combination of 'any and all' to achieve the 'groups' of data for further manipulation.




This hybrid app has an online member registration using their chosen email address and chosen password.

Thereafter the email address will be the login.

The server will create a user database with capacity to restore lost passwords.

Complete online registration with email and password then bookmark website and/or "Add to Homescreen".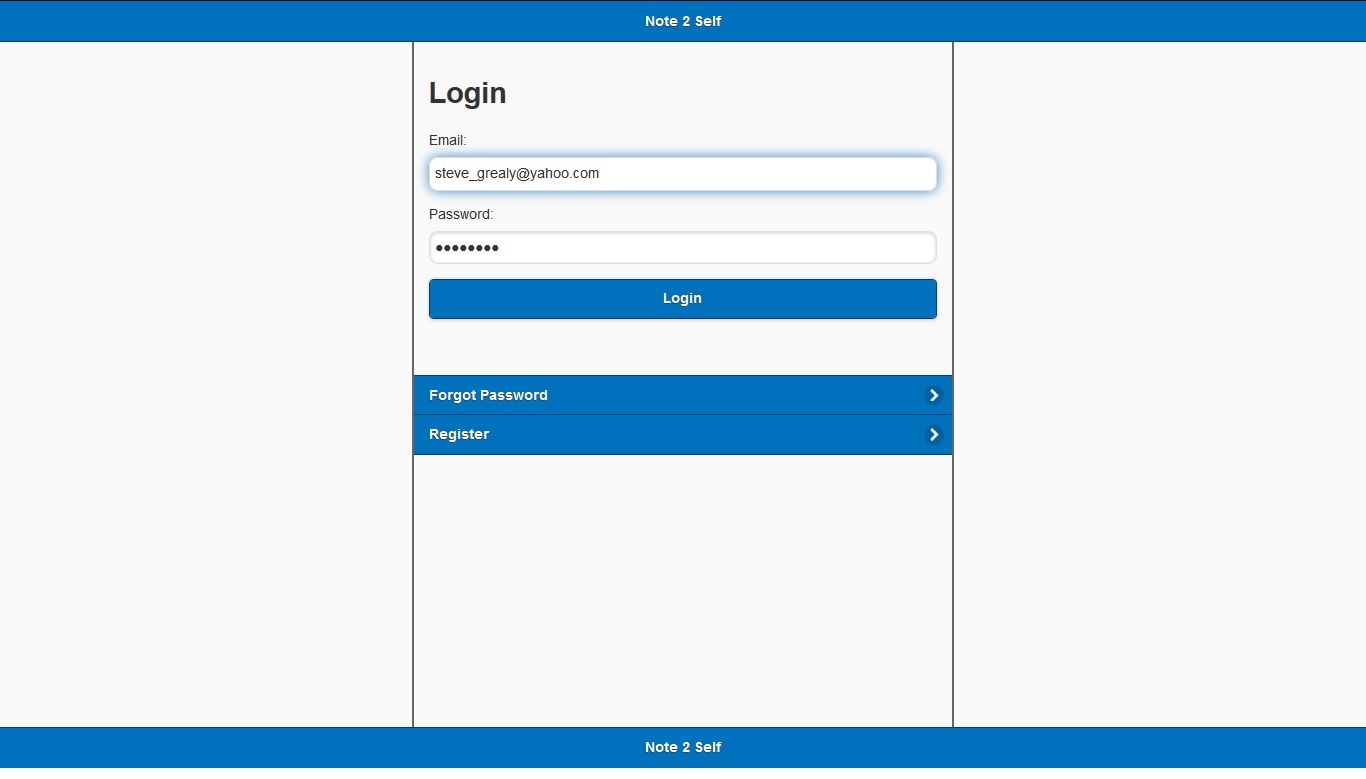 1. mobile - Login Page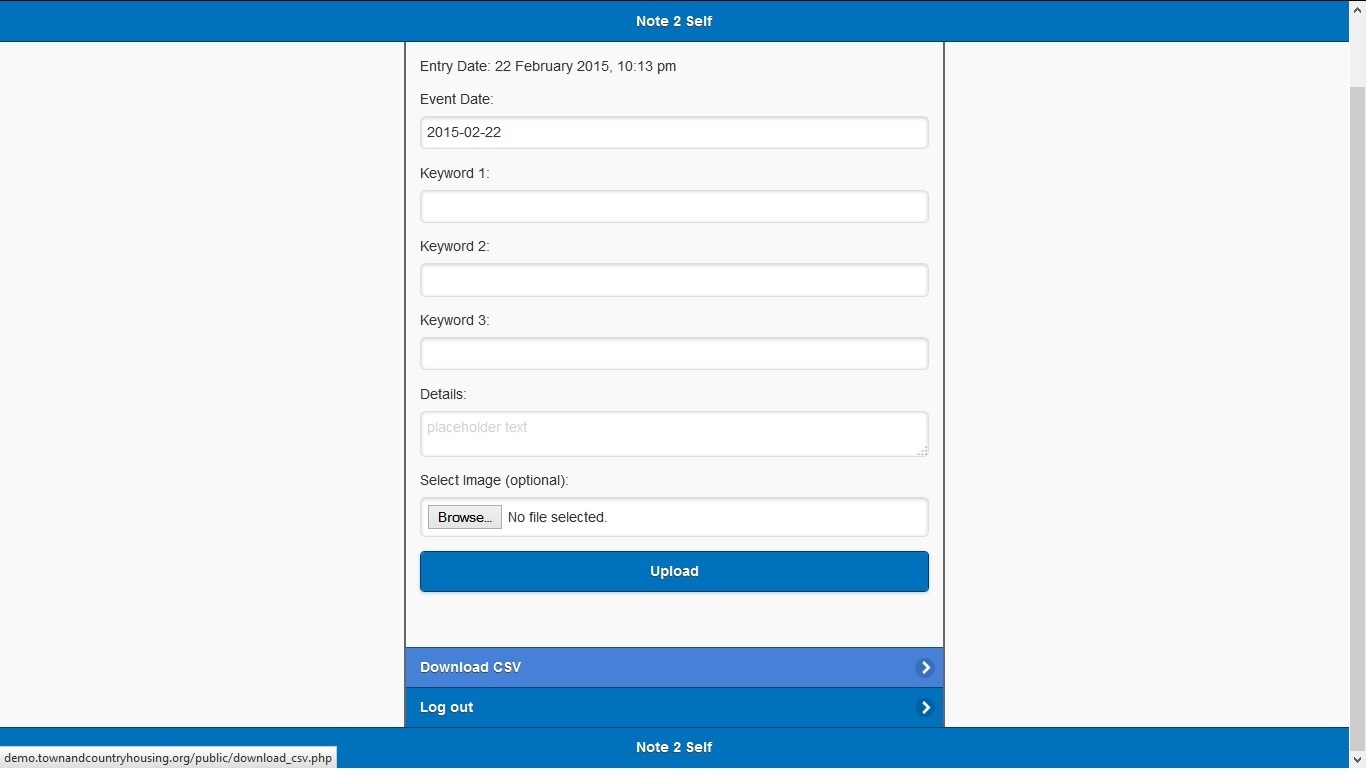 2. mobile - New Entry Page ready for data entry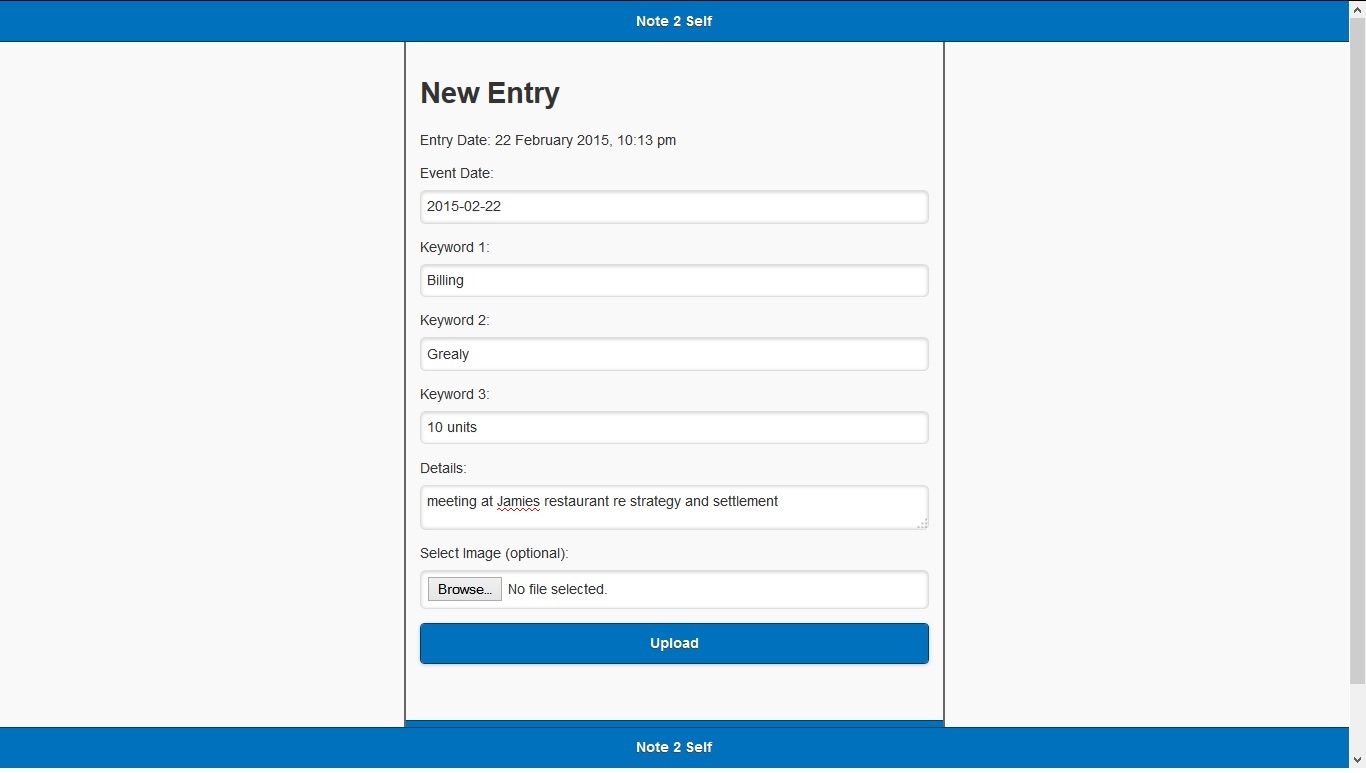 3. mobile - New Entry Page ready to send to database with the Upload Button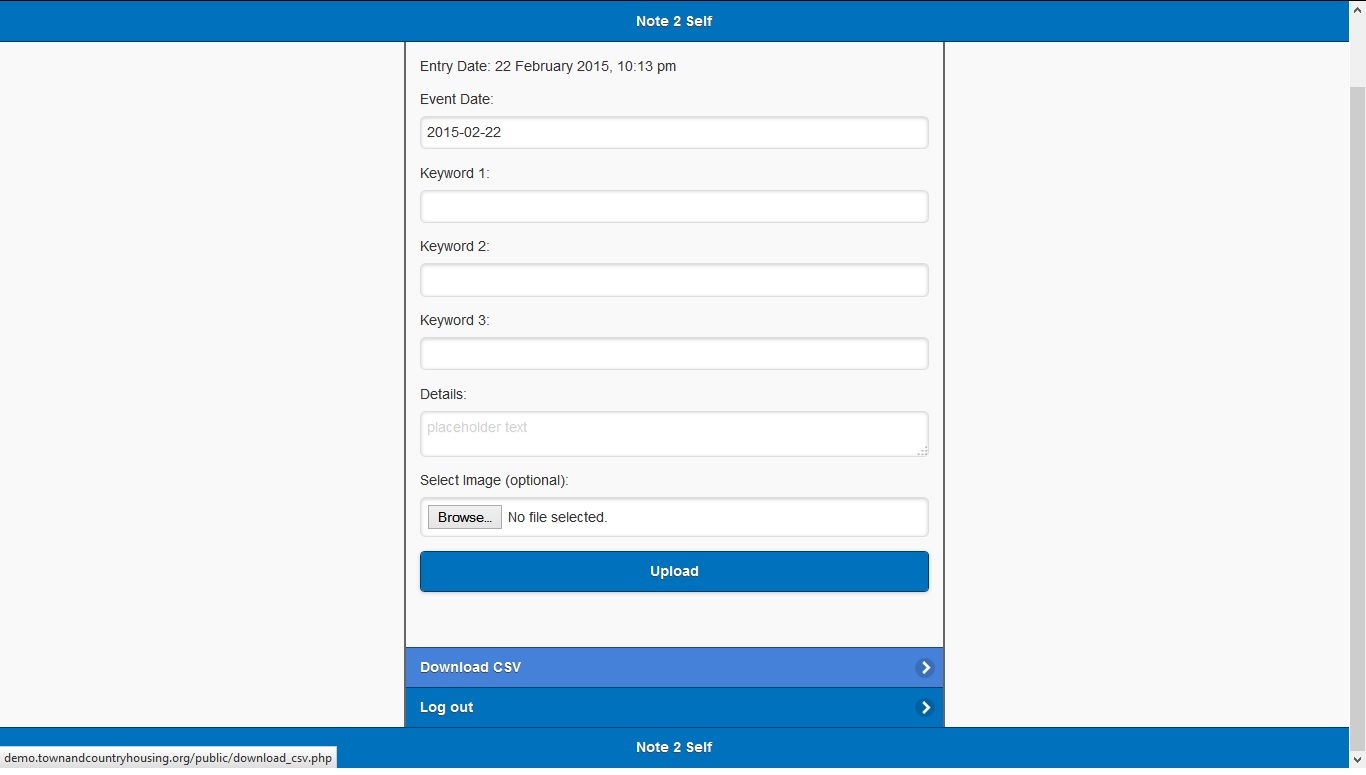 4. mobile - Upload successful, New Entry Page ready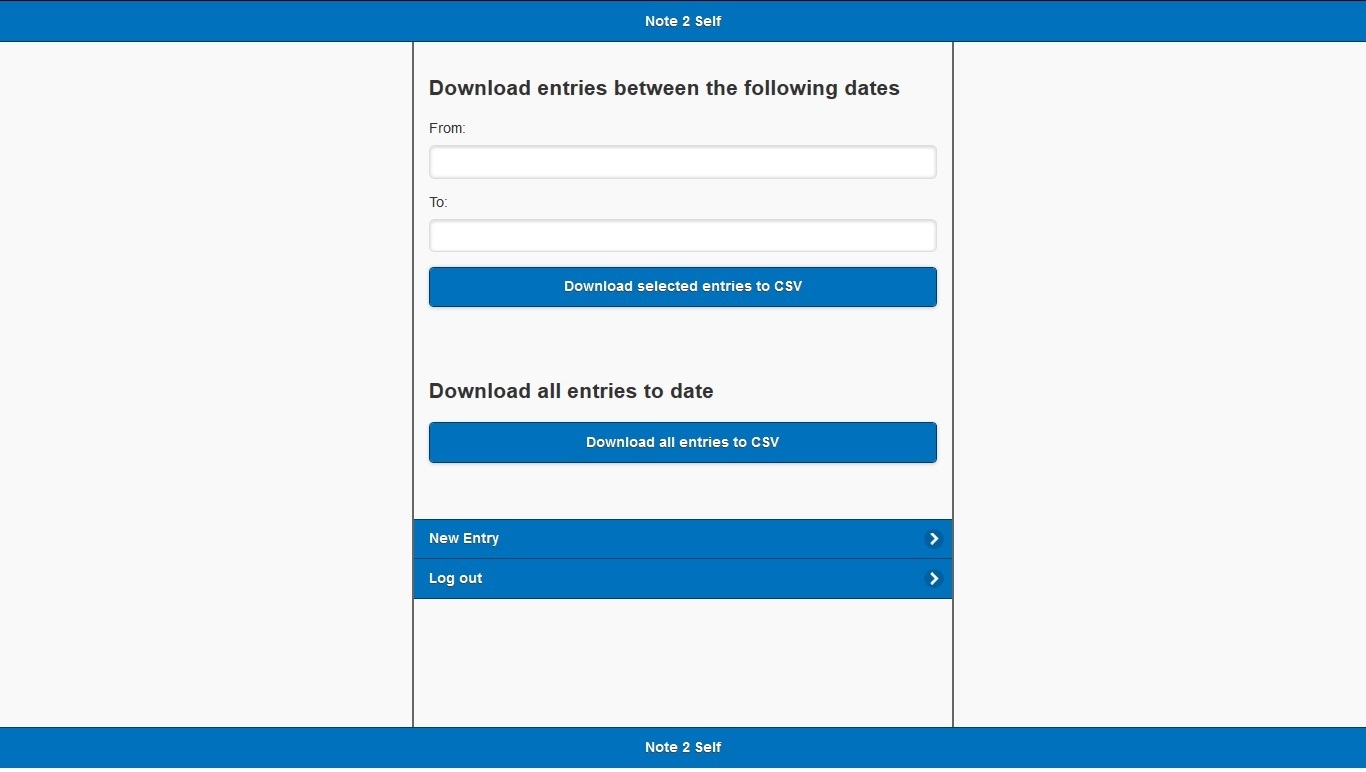 5. mobile - Download Entries options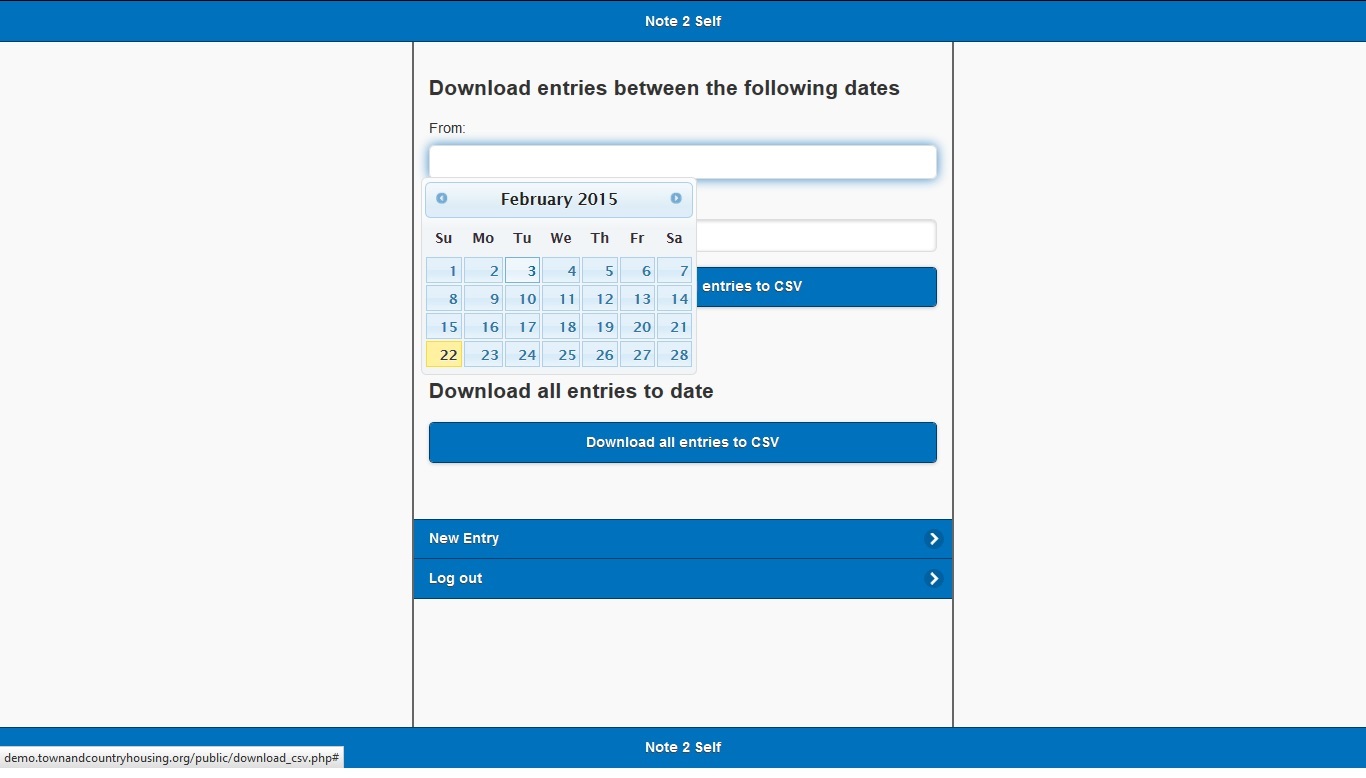 6. mobile - Download Entries: Datepicker option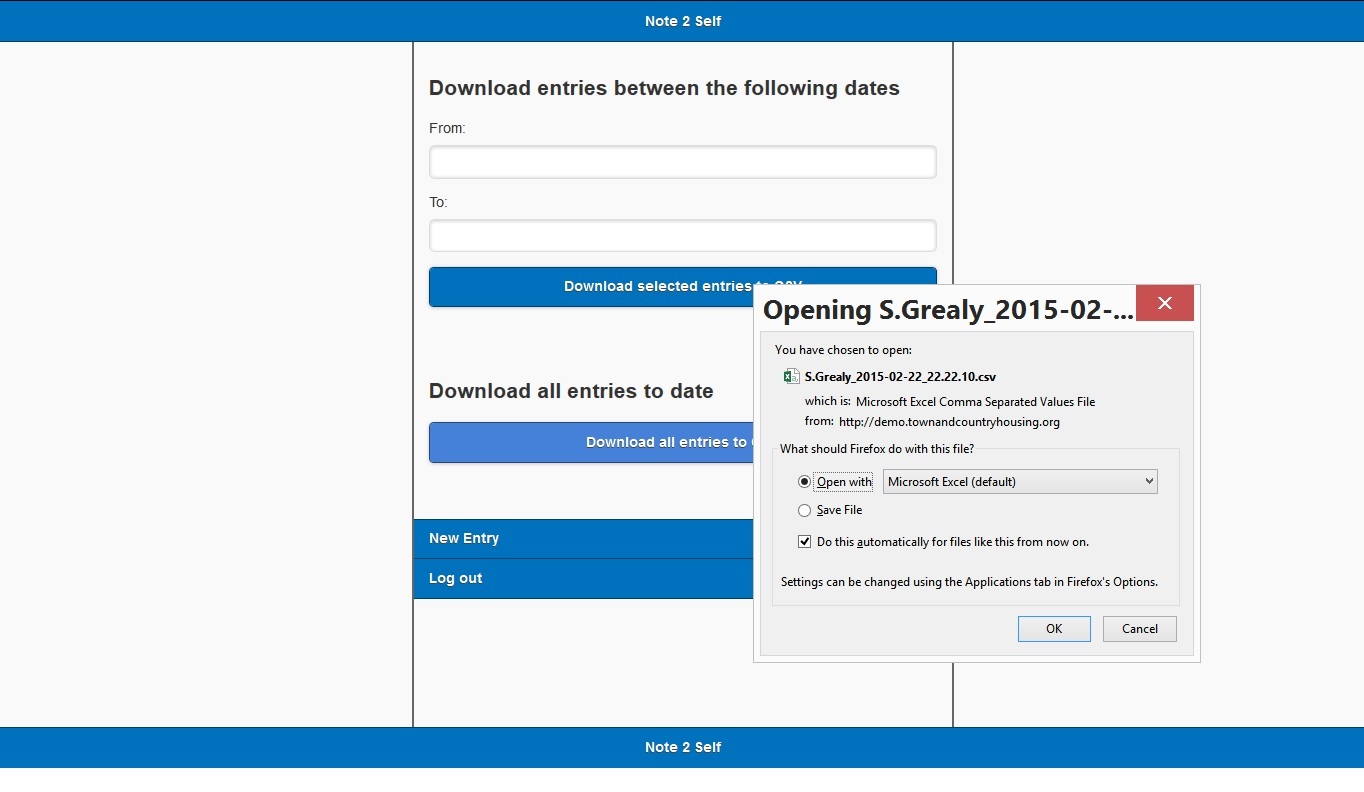 8. mobile - Download Entries: All Entries option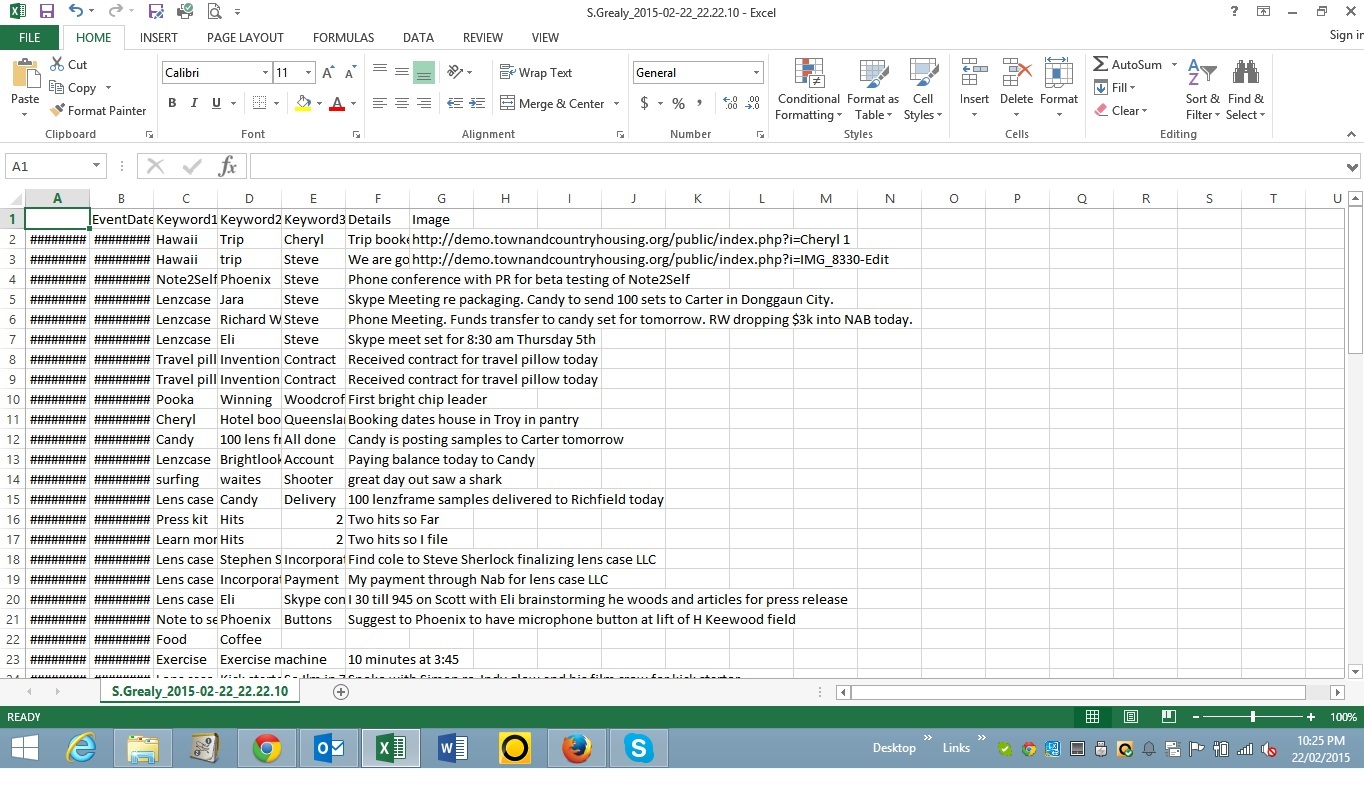 9. XL Sht - Download Entries All Entries as CSV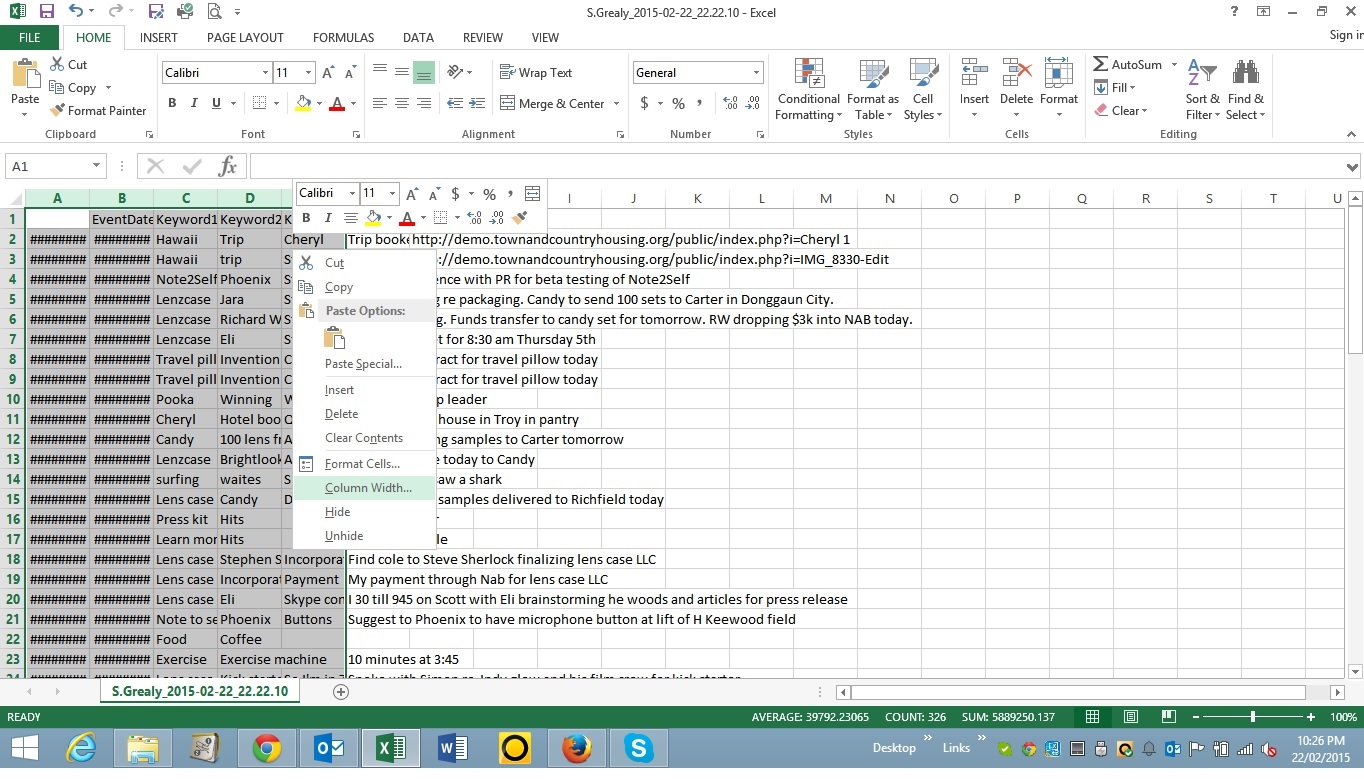 10. XLSht - Format CSV columns to 20mm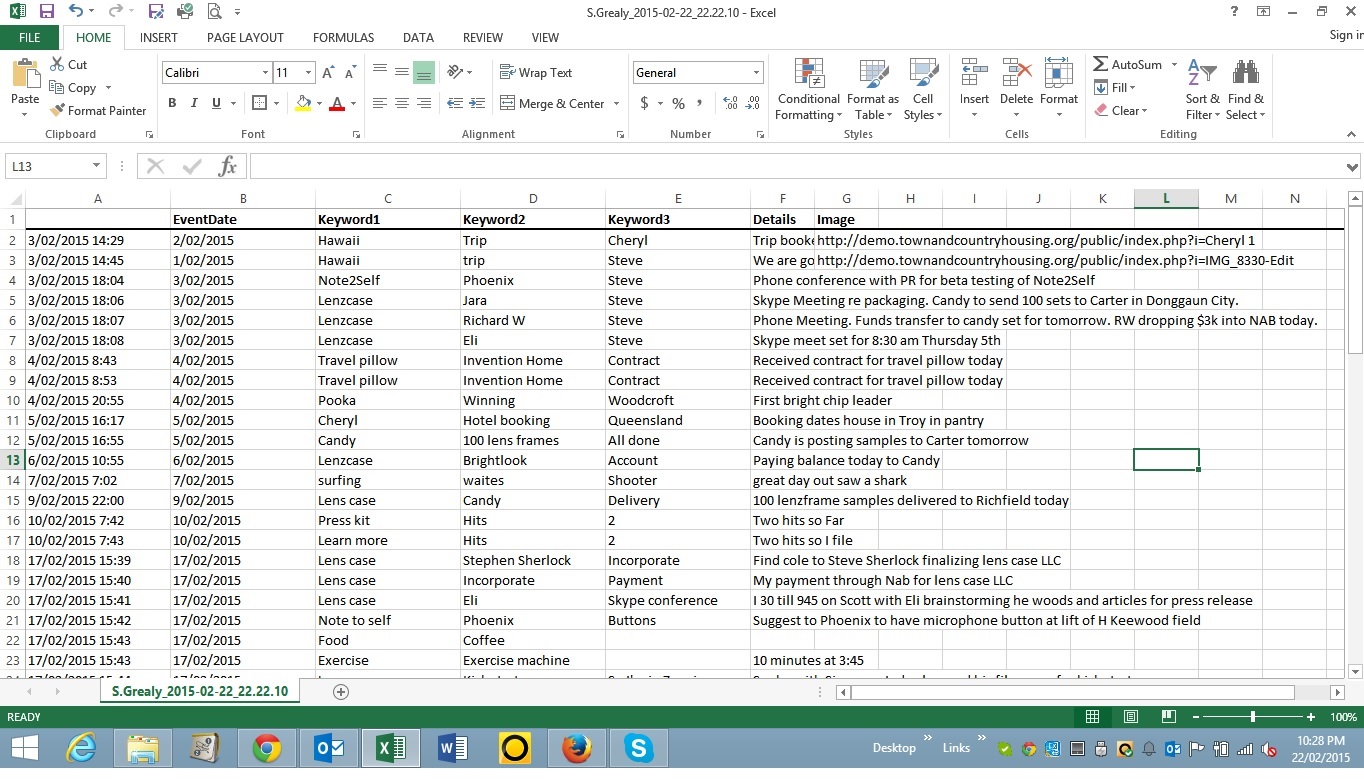 11. XLSht - Formated CSV columns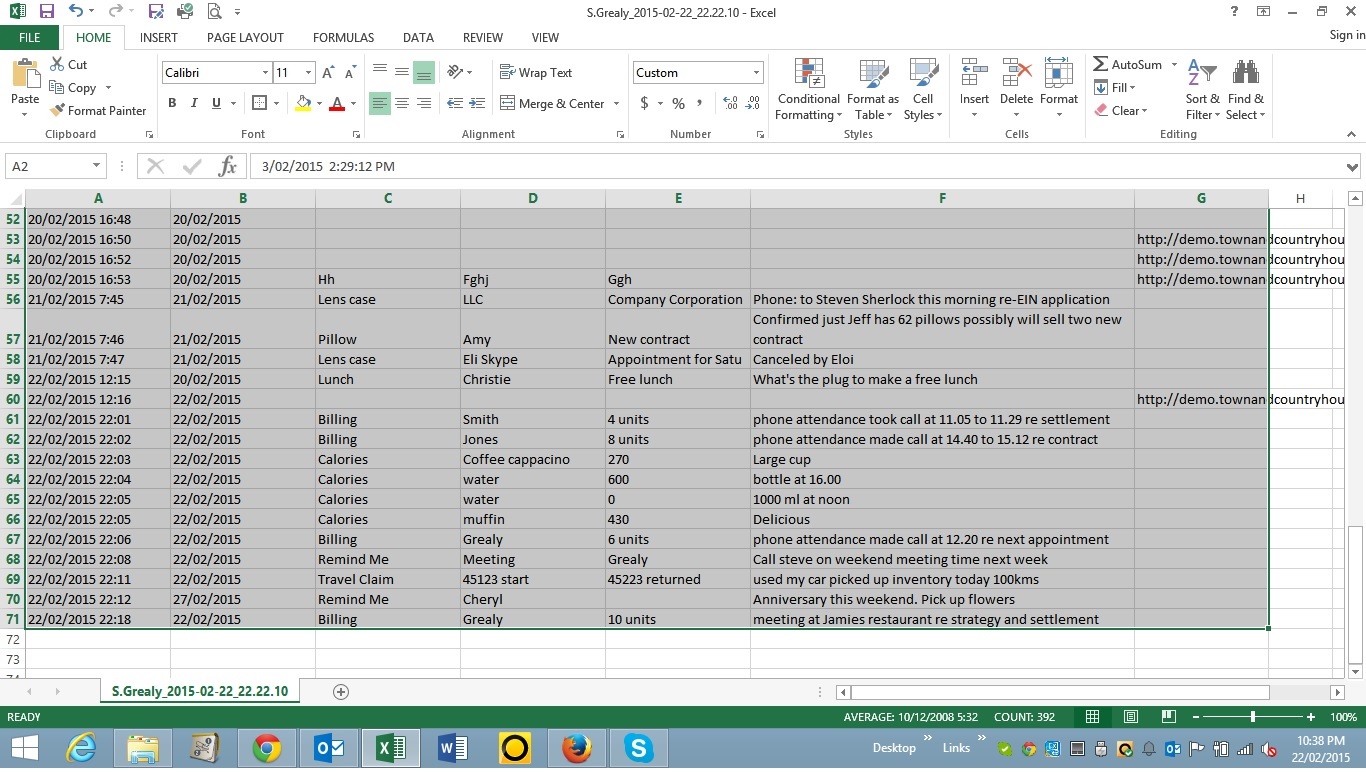 12. XLSht - Select All data for sorting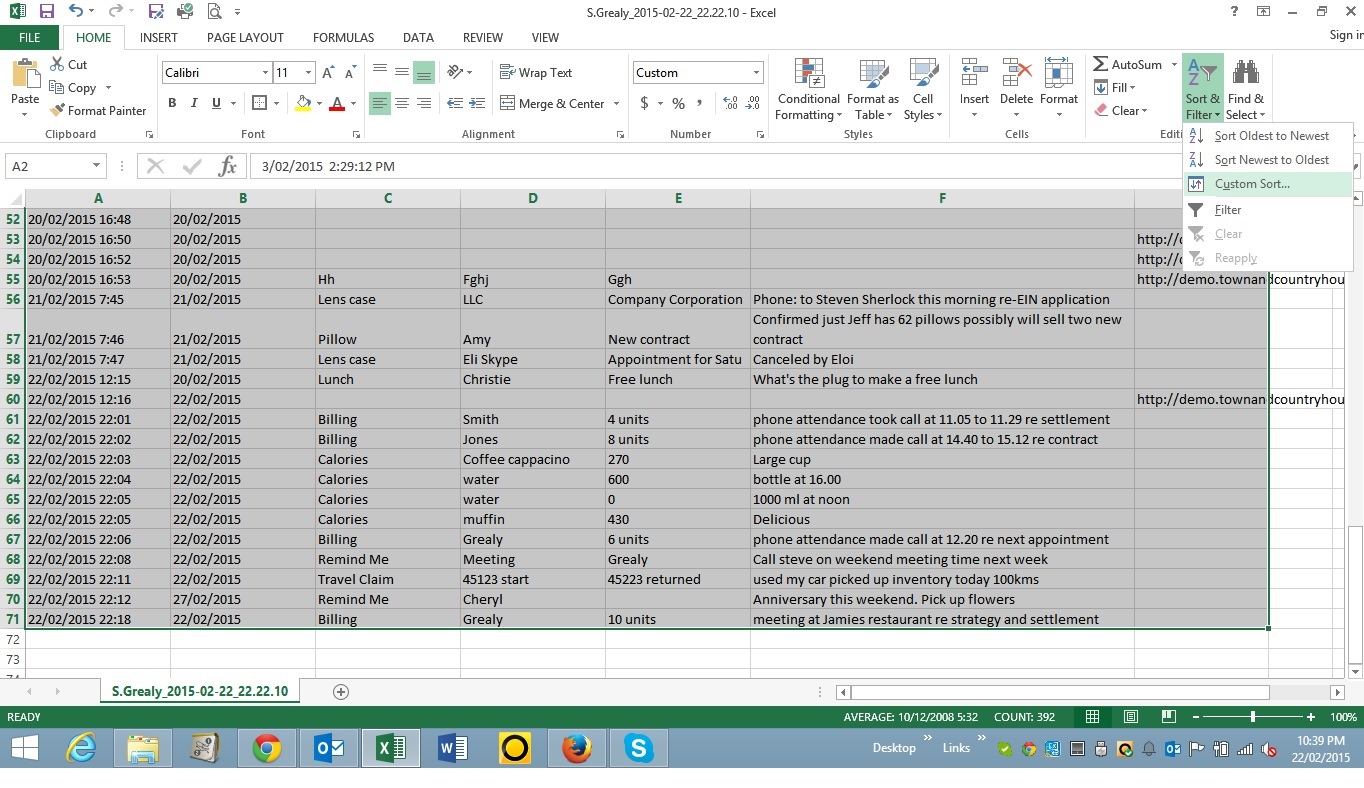 13. XLSht - Select, Sort and Filter by Custom Sort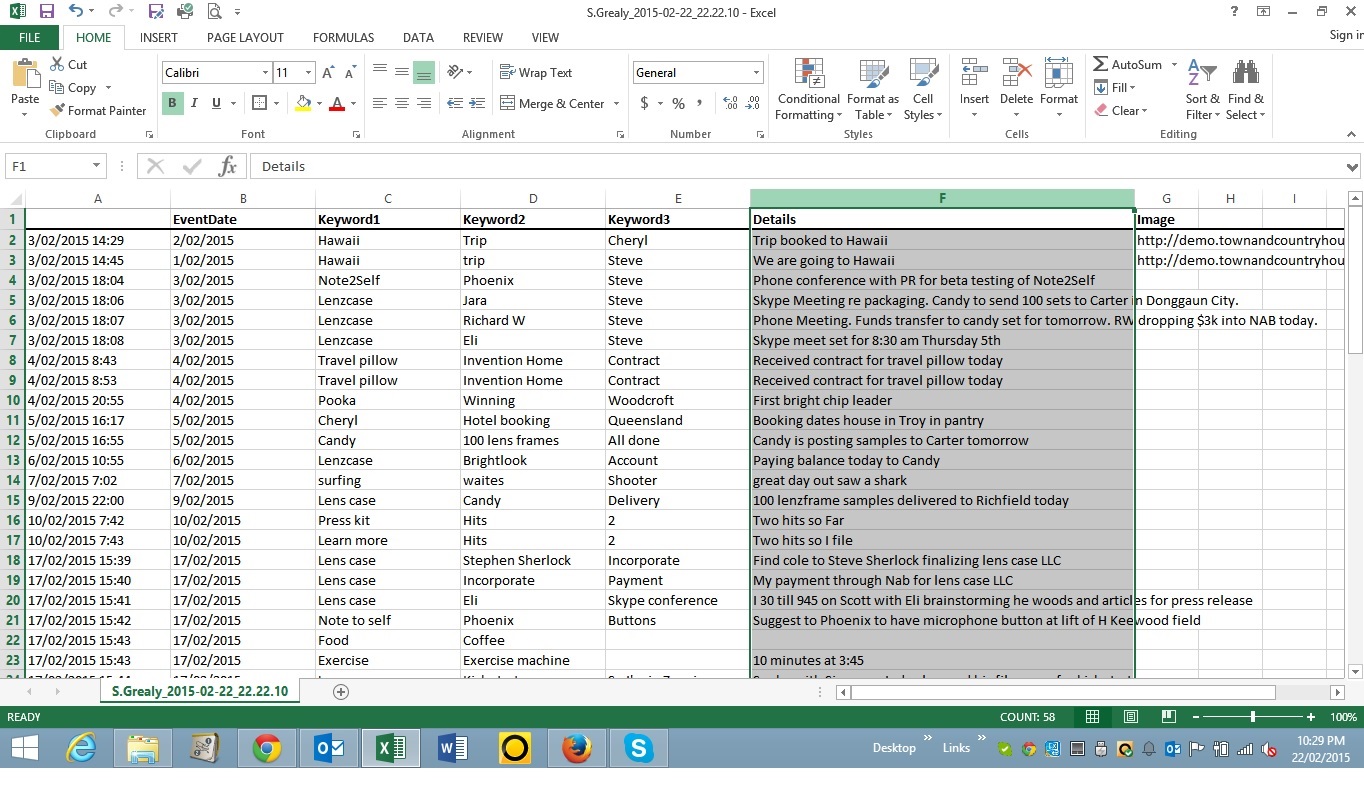 14. XLSht - Select Details column and Wrap Text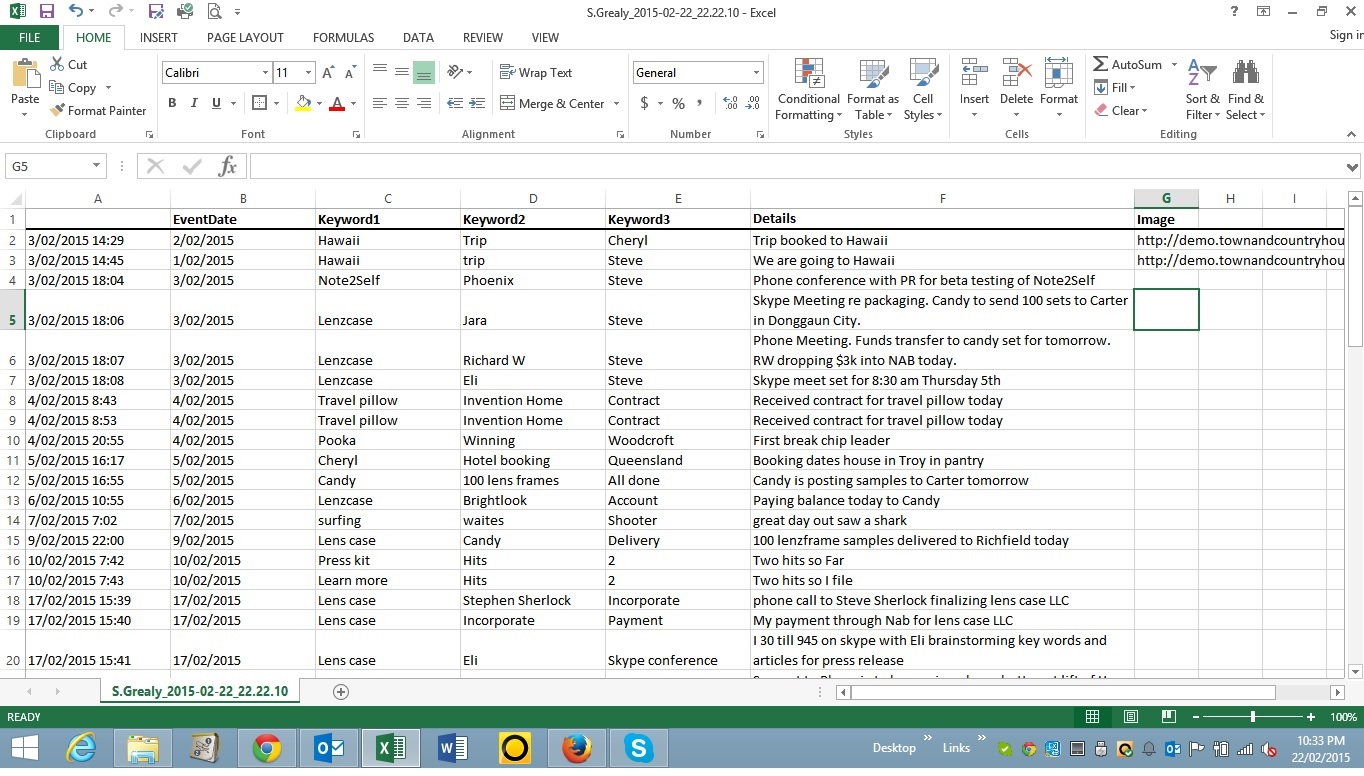 15. XLSht - Wrap Text in Details column brings all columns into screen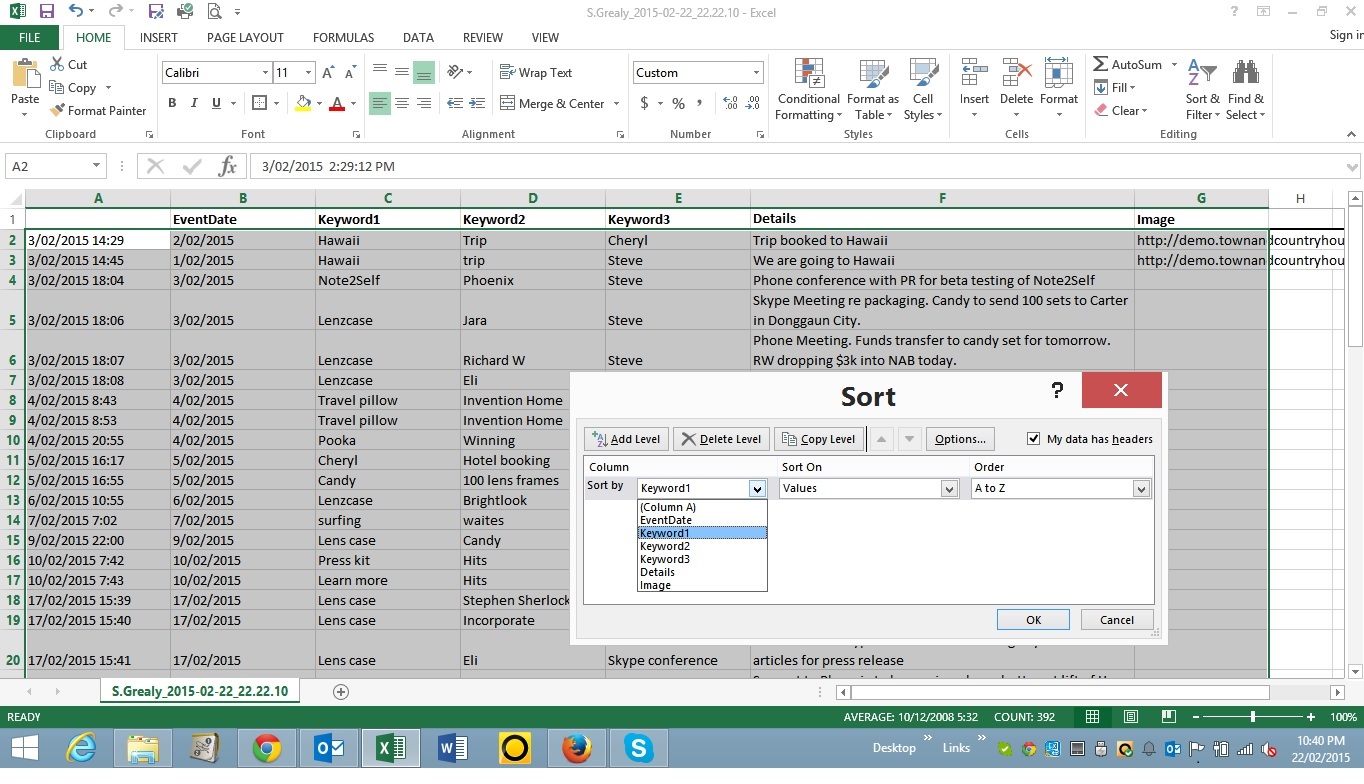 16. XLSht - Sort all data by Keyword1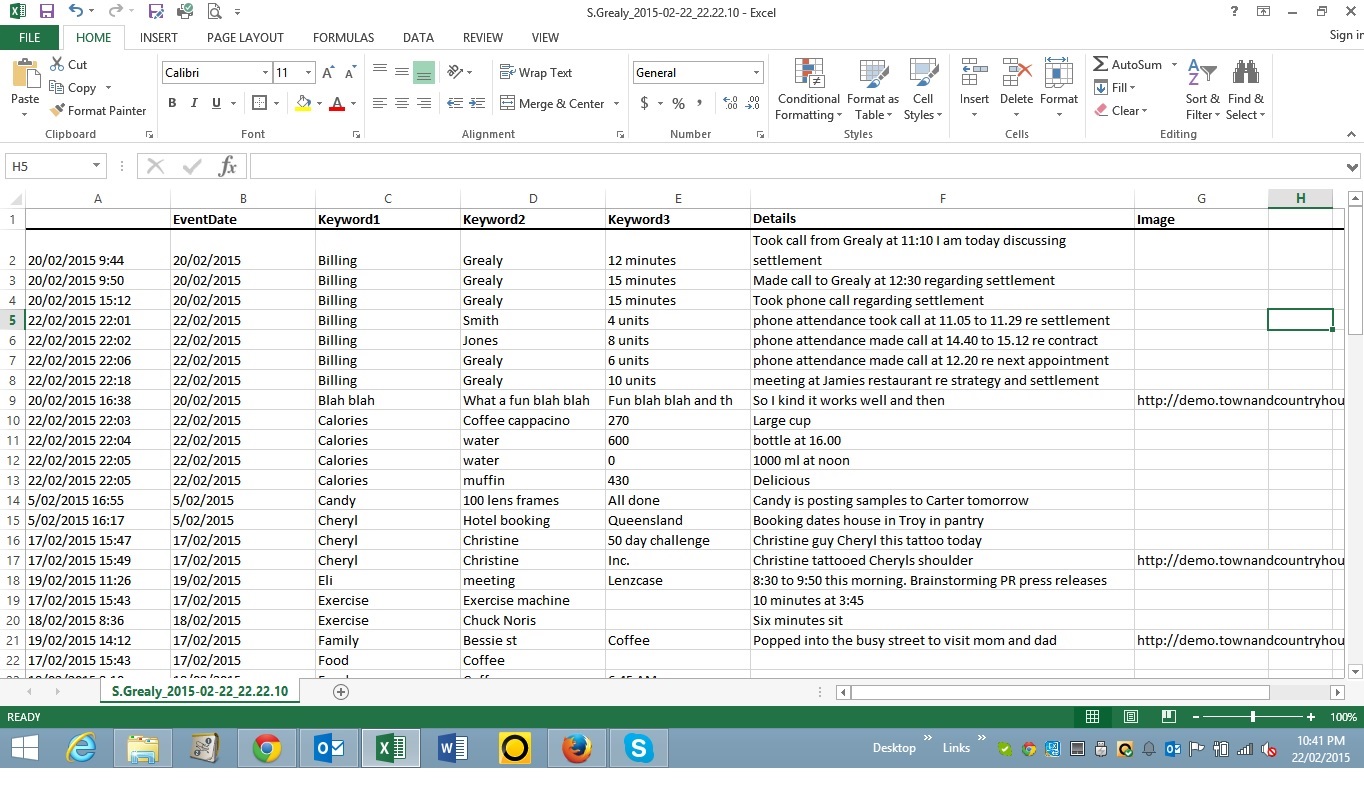 17. XLSht - All data now Keyword 1 Alpha order sorted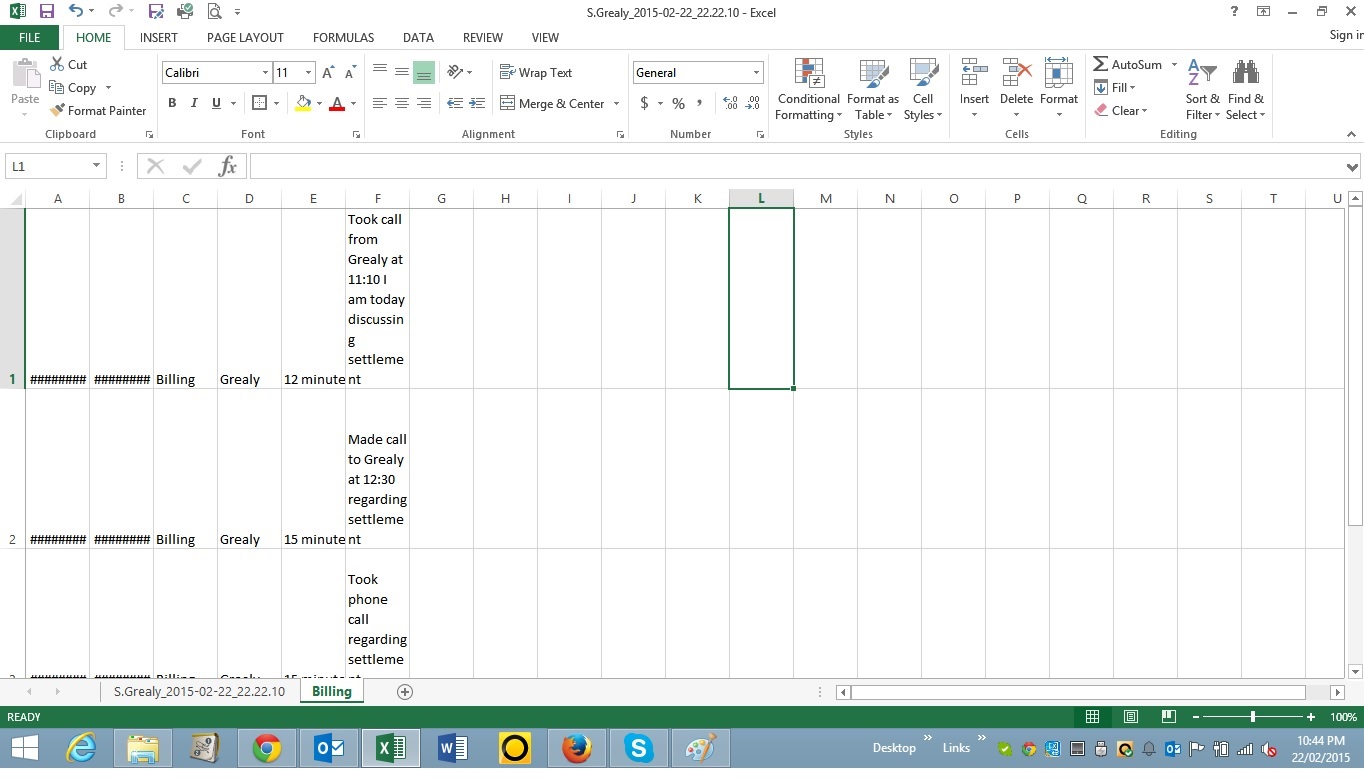 18. XLSht - All (Keyword 1) Billing entries copied & pasted into new 'sheet' renamed "Billing"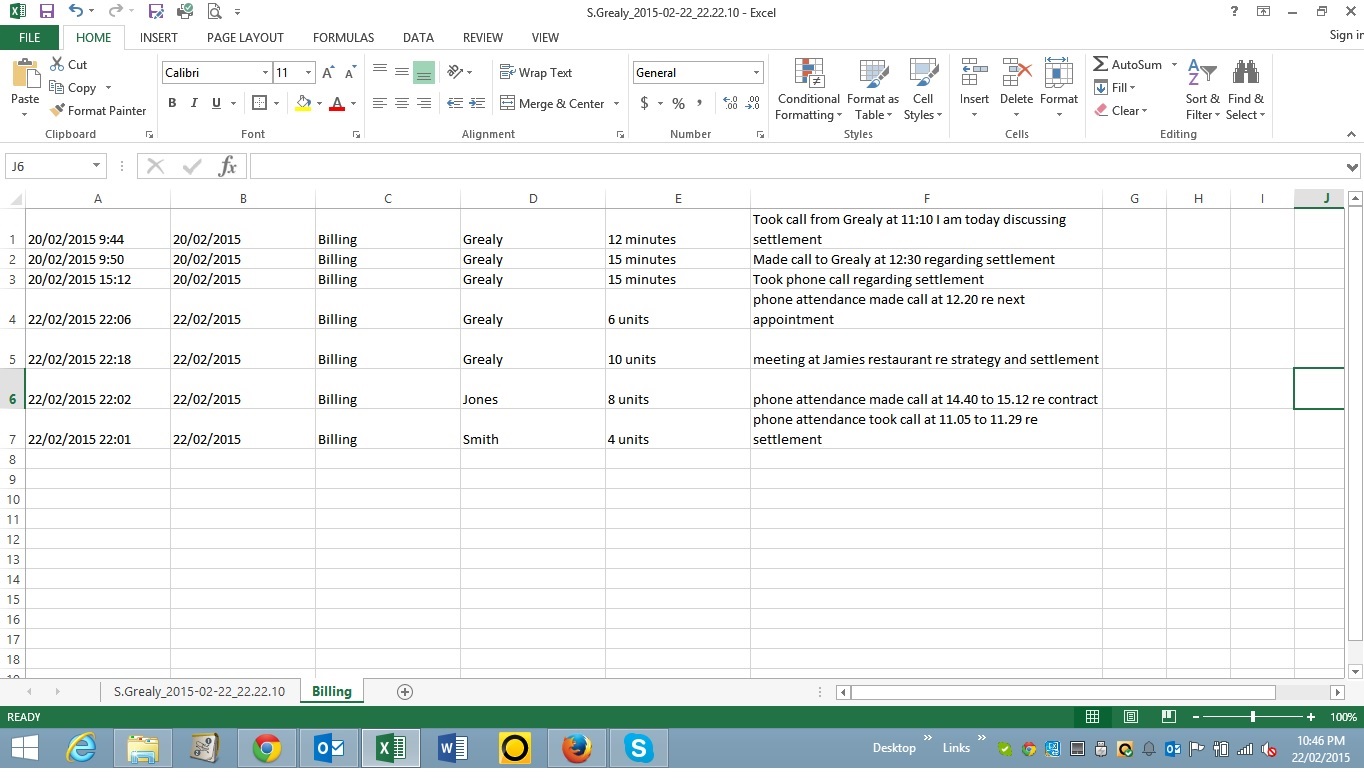 19. XLSht - Column width formated then All Billing sorted 'by Clients' (Keyword 2)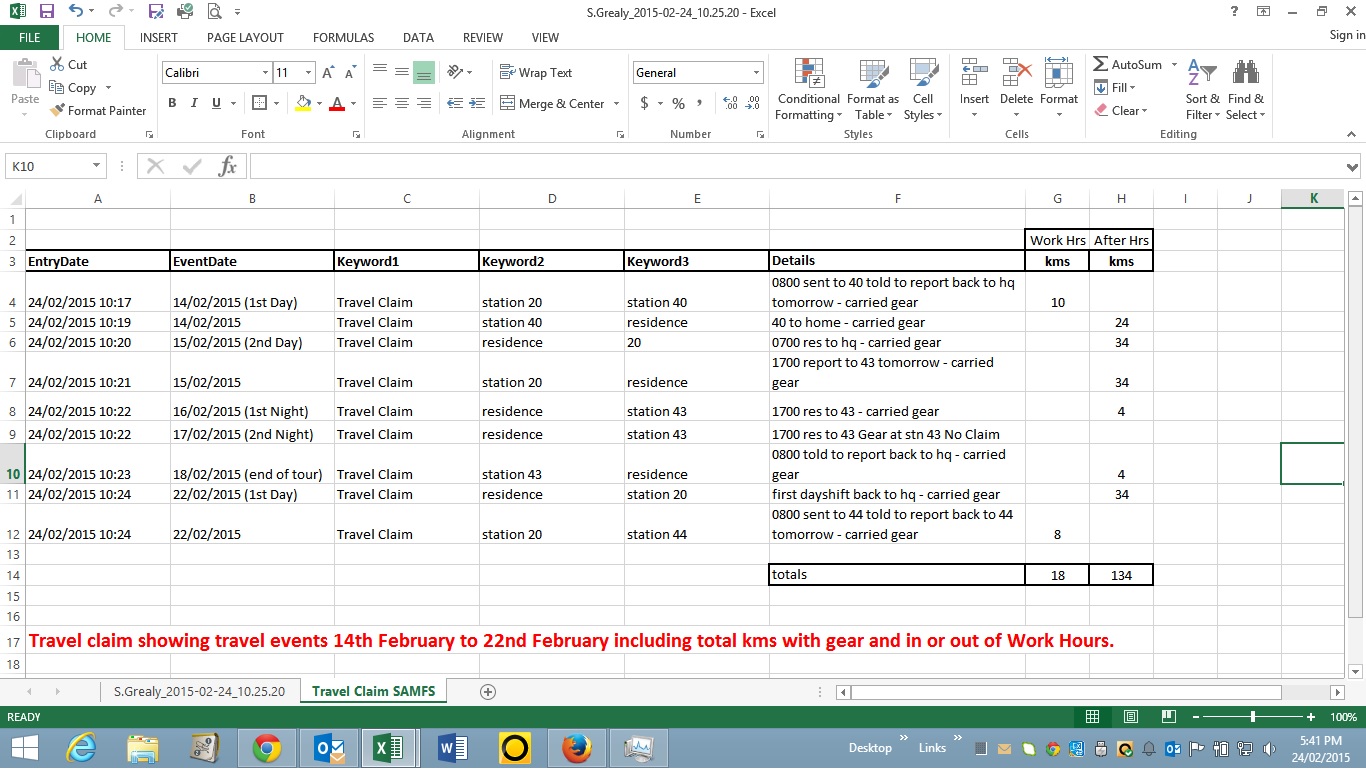 20. XLSht - Travel Claim summary for SAMFS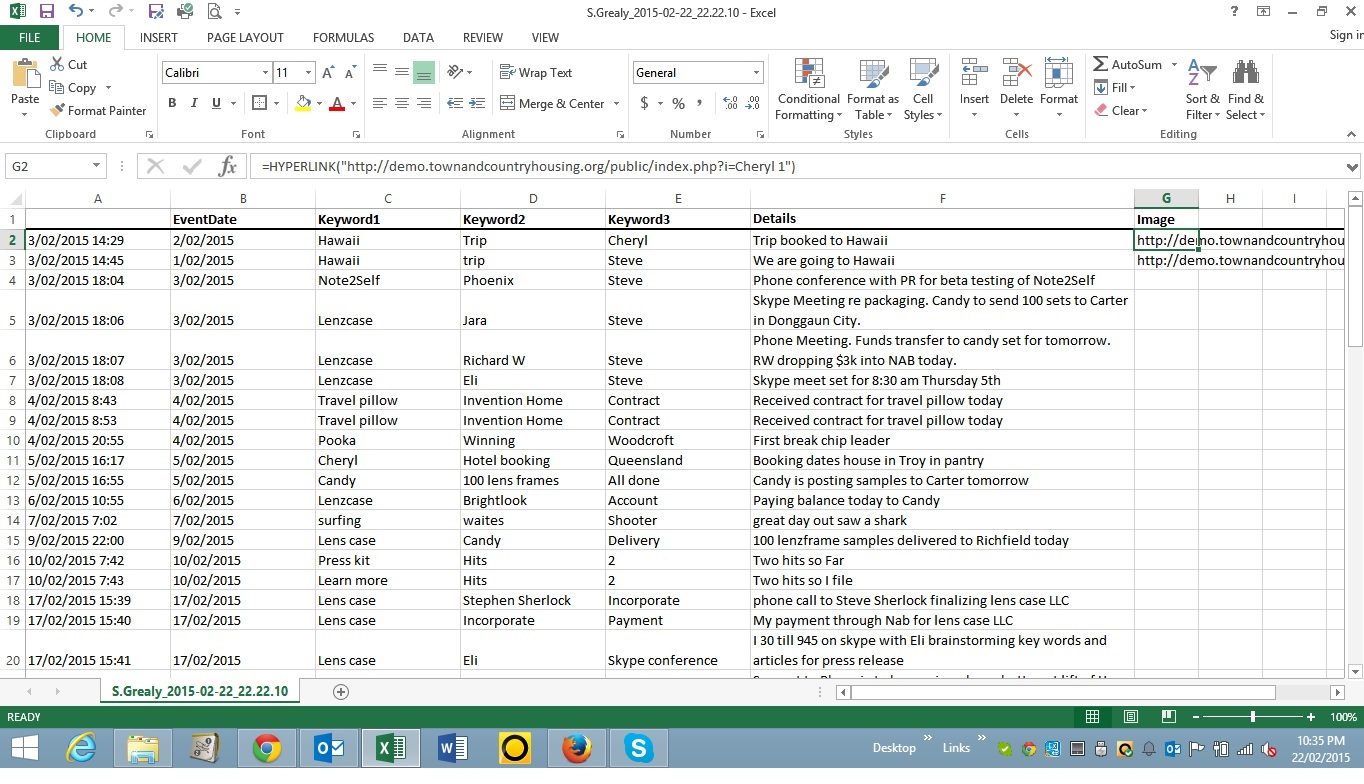 21. XLSht - Image cell click to view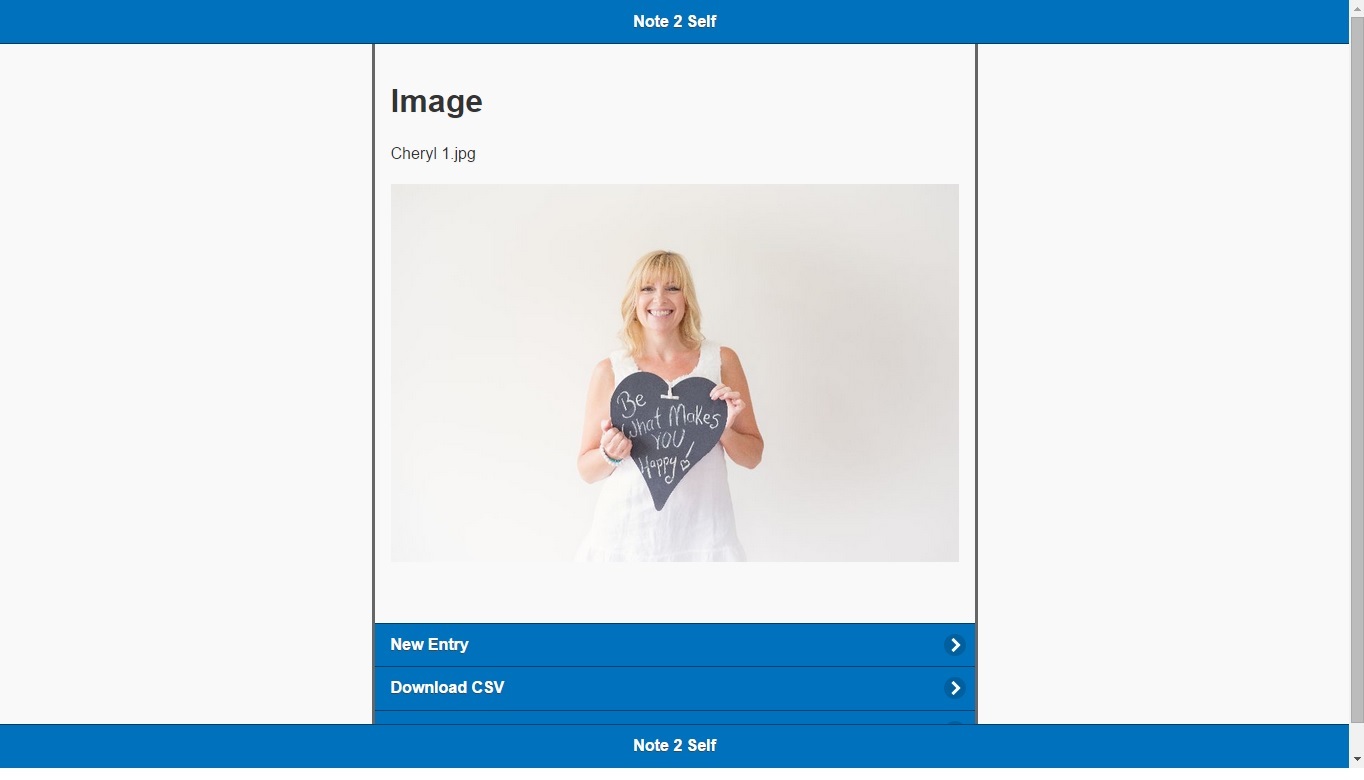 22. XLSht NTS Selected Image cell clicked to view in browser